The Great size of the Cupcake Holder keeps all your cupcakes in place avoiding them from flying around in the Cupcake Container. It is the best cupcake carrier to inlay your simple, or decorated cupcakes to layaway for later or to send to anyone at any time. Whenever you will be sending these Phenomenal individual cupcake boxes filled with your "delicious" Cupcakes, your family, and friends will be astonished by its Gorgeous and neat look! It is the cupcake container which beautifies your treat!
The Clear Cupcake boxes are just the right solution and the Great way to start party preparations. It is the #1 box for everyone. The Phenomenal container is the cupcake favor boxes to fill with any type of simple, decorated, and extravaganza cupcakes. It is a Super idea to prepare at any type of event: weddings, birthday party, baby shower, July 4 Ceremony, or any get together you are planning on making.
Green Direct Fabulous Cupcake Holder is the ideal item you need to have. Its durable makeup makes it a Great Quality cupcake box, and enables it a shiny, beautiful look and feel. No matter at which occasion you will be using it, it will always make a Gorgeous Statement! For the Upcoming Christmas Holiday it is a Great idea to set as a centerpiece for every guest with your matching theme cupcake. Your Guest will surely be astonished by its beauty!
Want to prepare some delicious, delicate, cupcakes? And make them look trendy, fashionable, and delightful? With Green Direct individual cupcake boxes, you will have your solution without the labor. The Attractive cupcake containers make the cupcake look like a sweet treat! Ready to enhance your table. The cupcake holder box will make your party table or simple Dinner together a Gorgeous Occasion!
Our plastic cupcake container is BPA Free and Clear so you can insert any type of Cupcake, with any decorations or flavor no matter what your color scheme is. Match your cupcakes in our clear cupcake containers to other party supplies for a Bold and Enjoyable affair!
$18.95
Schedule of price changes
0,18.95,18.95,18.95,18.95,18.95,19.95,19.95,19.95,19.95,19.95,19.95,18.95,18.95,18.95,18.95
| | | |
| --- | --- | --- |
| Current price | $18.95 | 2018-12-13 |
| Minimum price | $18.95 | 2018-12-02 |
| Maximum price | $19.95 | 2018-11-05 |
Compliant Cupcake Dome Containers
Base diameter: 9cm; base height: 4.5cm; Lid diameter: 10.5cm; lid height: 3.5cm
Great new idea - these simple to use clear hinged cup cake / muffin holders are perfect to display your cakes in or to give away
Material:plastic.
NOTE: The dome lid is some kind of loose, please press to seal and use some transparent adhesive tape or stapling it for security.
Features a domed lid for protecting delicate icing and decorations which holds securely when closed and can be resealed after opening.
$7.32
Schedule of price changes
0,7.08,7.08,7.08,7.08,7.08,7.08,7.32,7.32,7.32,7.08,7.32,7.08
| | | |
| --- | --- | --- |
| Current price | $7.32 | 2018-12-13 |
| Minimum price | $7.08 | 2018-11-21 |
| Maximum price | $7.32 | 2018-12-09 |
HIGH DOME DESIGN EXCELLENT FOR ANY FROSTED CUPCAKE TOPPINGS: With a spacious layout this container can showoff any creativity, which can lead to a unique look for any Event, Party, or Display!
CHEFIBLE'S RISK-FREE, HAPPINESS GUARANTEE: Your satisfaction is always our #1 priority. If for any reason you're not 100% happy cupcake containers, contact us within 30 days for a hassle-free return or replacement.
EXTRA STRONG LOCKS AND A EFFECTIVE HINGE PROVIDE AN EXCEPTIONAL SEAL: Each container is fashioned with sturdy latches to ensure a guaranteed freshness seal, so you can be assured it will be in the same shape and taste from when they were originally crafted!
STURDY AND ECONOMIC DESIGN: Each container is designed and crafted to tolerate any amount of stacking. With an economical design no matter how many are stacked the boxes will take up little space!
DURABLE AND RECYCLABLE PLASTIC, GREAT FOR MULTIPLE USES: Built with PET plastic each container is BPA free and extremely durable. Each containers durability correlates there ability to be cleaned and reused, the hinge will not break!
$29.99
Schedule of price changes
0,29.99,29.99,29.99,29.99,29.99,29.99,29.99,29.99,29.99,29.99,29.99
| | | |
| --- | --- | --- |
| Current price | $29.99 | 2018-12-13 |
| Minimum price | $29.99 | 2018-12-11 |
| Maximum price | $29.99 | 2018-12-11 |
A DIY "Would You be my Bridesmaid?" Function Inspired by Rosé + A Giveaway
Bridesmaid Favor Boxes We made the favor boxes out of two exceptional types ... So we created cute little rosette toppers made out of pink cardstock for our white cupcakes. They were super unhurried to craft and they made for a big impact. Here is LINK TO ...
cupcake container | manage bags~tags~packaging 3 | Pinterest
Kute Piece Artisan Cupcakes
Bags were also designed to clutch the boxes comfortably to ensure the cupcakes are always delivered as good as when just made." Kute Cake is undoubtedly adorable. The logo is almost like a gentle, fluffy cloud, and the pastel colors on the boxes elicit ...
23 Vigorous Lunch Box Snacks Your Kids Will Love
The maladjusted was the healthier items that I worked hard to prepare were always overshadowed by the store bought cupcakes with the piles of blue ... my kids to set with healthy foods in their lunch boxes, and come to find out they were trading some ...
DURABLE STACKABLE PLASTIC CUPCAKE BOXES 25 PACK - Best VALUE SET for home or bakery business. Comes in a set of 25 and every box has 4 compartments. Made of strong plastic that won't crack, bend or break easily. The box will also protect your
PERFECT SIZE - The perfect size prevents your cupcakes from moving inside the box. If you make your cakes with tall toppings this isn't going to be a problem since the 3.75 inches height lead allows space so your cupcakes will not be crushed inside
SNAP CLOSURE - It preserves your cupcakes crisp and freshness at the same time it will protect your mini cakes from being deformed especially during transportation. You can now enjoy your outing and picnic with your family with this on the go storage container for your delicious muffin or cupcake.
OUR PROMISE - We got you covered! Your purchase from us always includes a hassle-free 30 days Money Back Guarantee. If you for any reason don't like your brand-new Cupcake boxes, simply return them for a FULL REFUND. No questions asked.
VERSATILE USAGE - You can fill these boxes with cupcakes or homemade muffins. The box is lightweight and super easy to bring with you to a party, housewarming, picnic or anywhere else your heading, ideal for traveling
$22.95
Schedule of price changes
0,22.95,22.95,22.95,22.95,22.95,22.95,22.95
| | | |
| --- | --- | --- |
| Current price | $22.95 | 2018-12-13 |
| Minimum price | $22.95 | 2018-12-02 |
| Maximum price | $22.95 | 2018-12-02 |
🎂 LARGE DEEP LIDS - The cupcake holders have a spacious lid for protecting delicate icing and decorations which holds securely when closed and can be resealed after opening.
🎂 SUPERIOR LOCKS - Best locking mechanism on the market. These plastic cupcake boxes stay closed when you seal them.
🎂 NO FUSS - Cupcake containers holds one standard cupcake or muffin per container. This set contains 48 total containers.
🎂 PARTY ON - Great for all kinds of parties like weddings, receptions, birthdays and more.
🎂 100% MONEY-BACK GUARANTEE - These cupcake holders are backed by a 100% guarantee that you are fully satisfied with your product or you will receive your money back.
$29.96
Schedule of price changes
0,29.97,29.97,29.97,29.97,29.97,29.97,29.96,29.96,29.96
| | | |
| --- | --- | --- |
| Current price | $29.96 | 2018-12-13 |
| Minimum price | $29.96 | 2018-12-10 |
| Maximum price | $29.97 | 2018-11-27 |
$9.63
Schedule of price changes
0,9.68,9.68,9.68,9.64,9.63,9.63,9.68,9.68,9.68,9.68,9.68
| | | |
| --- | --- | --- |
| Current price | $9.63 | 2018-12-13 |
| Minimum price | $9.63 | 2018-12-11 |
| Maximum price | $9.68 | 2018-11-15 |
Blackberry Cabernet Cupcakes
This helps check the blackberries from sinking to the bottom of the cupcake, and also cuts down on the tartness of the blackberries. You will need two 6-ounce containers of blackberries for this recipe, or one of the larger containers works delicate too.
... BL550 6 Space Hinged Lid Clear Cupcake Container - 10 / Pack
STURDY AND DURABLE: the back hinge is really tough and will let you to open and close the container several times without breaking, the single bar lock in the front will preserve the container closed and will be easy to open at the same time.
CONVENIENT DESIGN: This cupcake carrier is stackable which made them ideal to show on a dessert table and to transport them safe and saving space, also, the shape of the cavity allows you to remove the cupcake without damaging the frosting.
HIGH-QUALITY MATERIALS: These clear cupcake containers are made of PET plastic with recycling code 5, they are also BPA Free, good for the environment and good for you. If you want to store your baked goods in the freezer or refrigerator, these containers are the answer, they can resist low temperatures.
FOR BUSINESS AND CELEBRATIONS: Clear containers that display beautifully decorated cupcakes with tall frosting, exhibit them in bakeries, deli shops and dessert shops, or showcase them in party celebration like weddings, birthdays or anniversaries, your guests will be delighted with attractive cupcakes.
DIMENSIONS: The cupcake boxes have enough space for decorated cupcakes. Length: 3 7/8 Inches, Width: 4 5/16 Inches, Height: 3 5/8 Inches. Check the compartment dimensions to make sure this container will fit your cupcakes, Top Compartment Diameter: 2 5/8 Inches, Bottom Compartment Diameter: 2 Inches, Top Diameter to place a label: 1 8/10 Inches
$19.99
Schedule of price changes
0,19.99,19.99,19.99,19.99,19.99,19.99,19.99
| | | |
| --- | --- | --- |
| Current price | $19.99 | 2018-12-13 |
| Minimum price | $19.99 | 2018-11-29 |
| Maximum price | $19.99 | 2018-11-29 |
'Gov' Hutchinson speaks to Realtor members
President Serena Whyte welcomed the group and got the congress underway. Sponsor Stone Creek Escrow, Inc. also had individual goodie boxes for attendees to take home mini cupcakes for their mid-morning bite. The first order of business was the presentation ...
20 In good health Chocolate Breakfast Recipes
Here's the plan: Chocolate Coconut Banana Bread For this healthy brownie batter overnight oatmeal, mix rolled oats with a few pantry critical ingredients in a small container or mason ... Bars Breakfast oatmeal cupcakes are one of the easiest chocolate ...
... -12-slot-hinged-lid-clear-mini-cupcake-container-10-pack.jpg
Snaps in place; Holds cupcakes in place during transportation
6-compartment standerd size Cupcake Containers with Hinged Lid- 12/pack
Bar lock closure provides a tight seal between top and bottom
$10.48
Schedule of price changes
0,10.49,10.48,10.48,10.49,10.49,10.49,10.49,10.49,10.49,10.49,10.49,10.49,10.49,10.49,10.49
| | | |
| --- | --- | --- |
| Current price | $10.48 | 2018-12-13 |
| Minimum price | $10.48 | 2018-12-11 |
| Maximum price | $10.49 | 2018-12-02 |
20 Discerning Cupcake Containers Momoka - s Apron: Cupcake Boxes: Kitchen ...
KEEPS CUPCAKES FRESHER! Have you ever carried a plastic box where those 2 flimsy tabs pop open all the time? It's not just inconvenient, but it gets dirt on your creations! That's why we put 10x DEEP closure tabs on each Cake Shield. So now your cup cakes are safer, and of course a whole lot fresher
AND A MORE PRACTICAL SIZE: We all know cupcakes can expand beyond 2 inches, so we've give you a generous 2.2inch space to fit YOUR cupcakes, pastry, dessert, confectionery, or muffin with ease, and of course, get our fingers in to take them out. Each cupcake tray is 12.7in L x 9.6in and holds a dozen. Cake Shield comes with a Lifetime Money Back Guarantee, so order yours now and give it a try!
ANTI-SLIP STACKABLE DESIGN: Not only can you stack twice the number of trays than other brands, but they're easier to stack and carry, and more stable with our unique EziStack D-Lids. Each tray slots neatly onto the lid of the next, so even if you're bumped, the entire cupcake tower will stay upright!
MORE FUNCTIONAL LIDS: Why take up table space with a hinged lid? Cake Shield has detachable lids with domes that you pop underneath your cupcake display to save space. You'll also discover they're easier to seal without frosting damage. Speaking of icing, pile it on - our lids are a TRUE 4-inches tall!
CRUSH-FREE CUPCAKES! While other Cupcake Storage boasts about 25lb anti-crush technology, Cake Shield carriers hold significantly more! You see, we use high quality BPA Free PET plastic that is up to 20% thicker than the standard so all cupcakes are safe to go!
$19.98
Schedule of price changes
0,19.98,19.98,19.98,19.98
| | | |
| --- | --- | --- |
| Current price | $19.98 | 2018-12-13 |
| Minimum price | $19.98 | 2018-12-01 |
| Maximum price | $19.98 | 2018-12-01 |
Set of 24 Understandable Plastic Cupcake Favor Containers by FavorWrap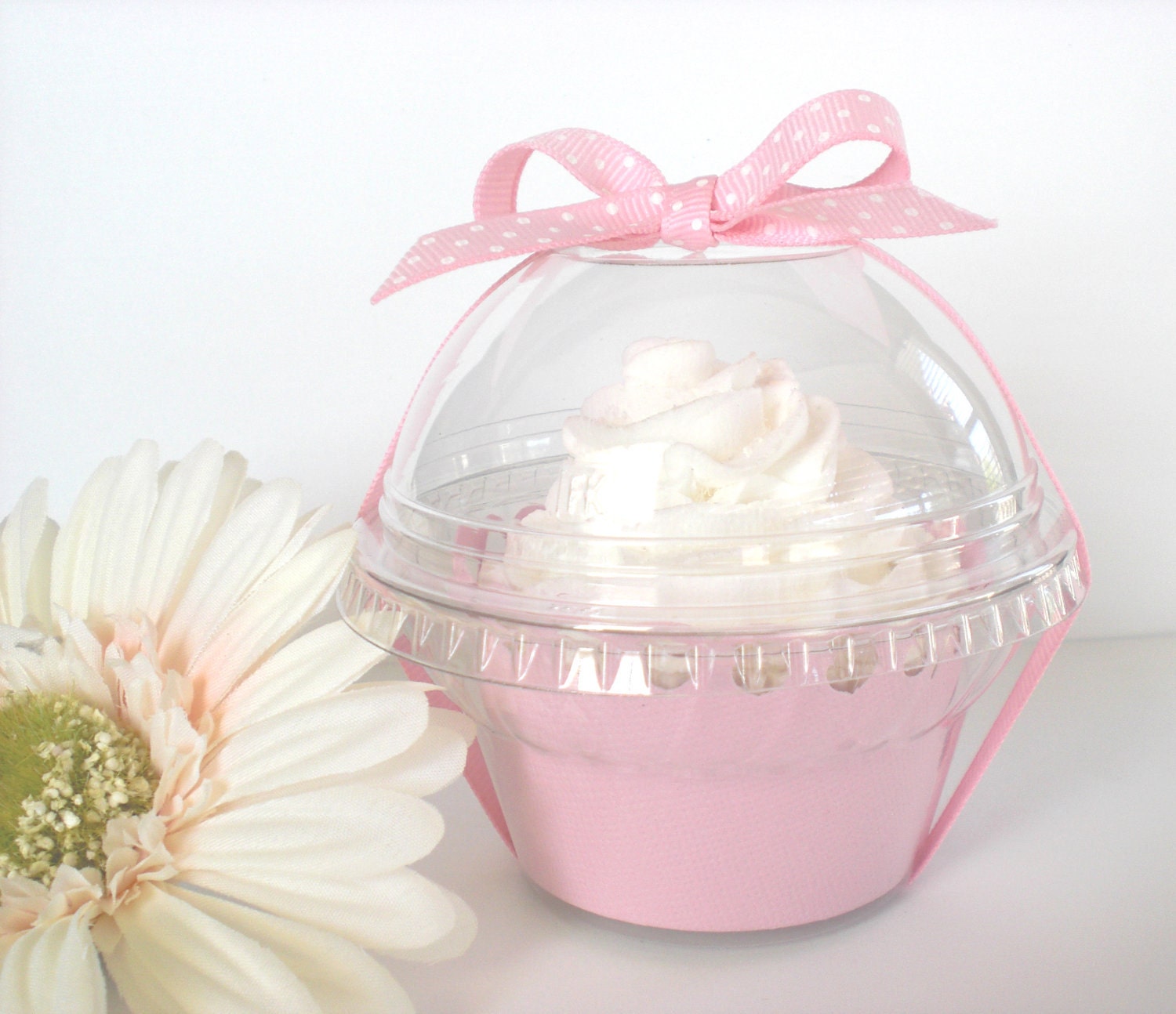 100 Sets Clean Plastic Cupcake Containers Holders by MyLittlThingz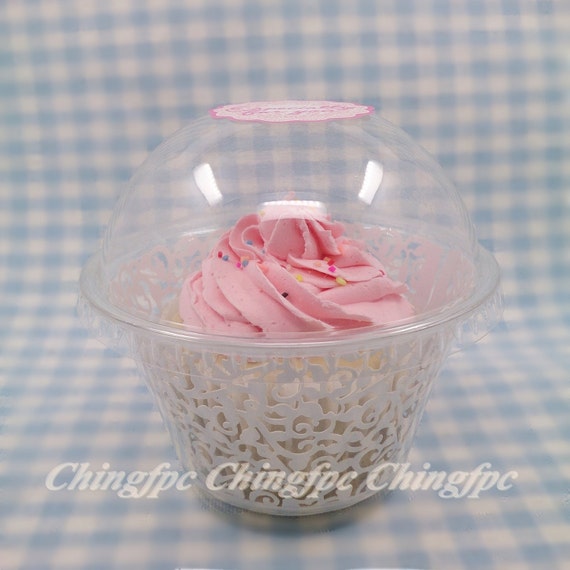 12 Sham Cupcake Cookie Candy Container by DKDeleKtables on Etsy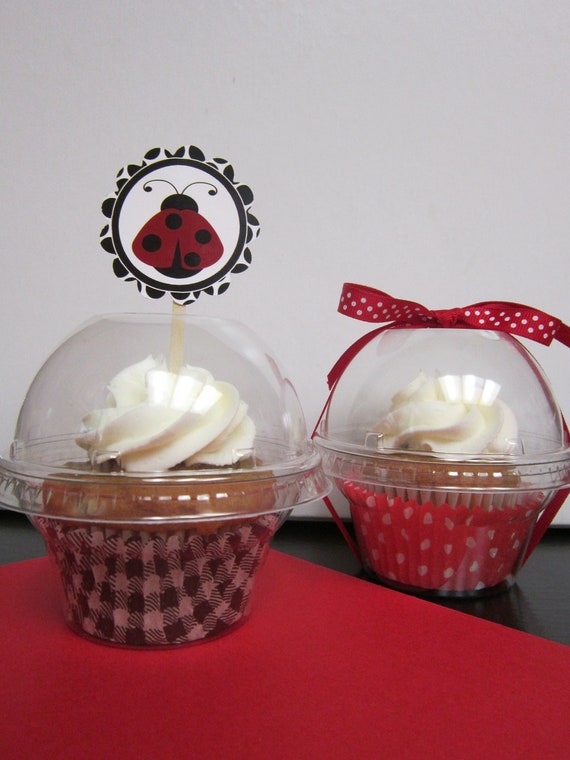 10 Things You Didn't Remember You Could Do in a Mason Jar
9. Use it as a baking container. Dismiss from one's mind the loaf pans and muffin tins — you can bake quick breads and cupcakes right inside a Mason jar. Get a Recipe: Mason Jar Banana Bread from All Created 10. Gross homemade instant noodle cups. We have a soft spot for ...
Palm Tree Cupcake Dry Inspired by 'The Wild Life' Movie #TheWildLife
Get cupcakes as directed. Tint one container of vanilla frosting green using green food color and the other brown (use red and green food color until desired phosphorescent brown hue is reached). Arrange cupcakes in shape of a palm tree. This is not an exact ...
Lightweight & hygienic - Keep your baked goods fresh!
Split the layers for 12 cupcakes in each container
Two Tier Cupcake Storage Container and Carrier
Carry Handle for ease of transport - The size of each tier : 13.6" long. 10.2" wide. 4.1" high
Strong Locking Clips ensure safe storage & maintains Freshness
$22.99
Schedule of price changes
0,22.99,22.99,22.99,22.99
| | | |
| --- | --- | --- |
| Current price | $22.99 | 2018-12-13 |
| Minimum price | $22.99 | 2018-12-07 |
| Maximum price | $22.99 | 2018-12-07 |
A new ingest on taking lunch
With so much reusable persuasible, most of us already have left over containers. Grab your cupcake liners (silicone or paper), hold onto your lemon baller, and brace your cookie cutters. Kids angel finger friendly food. Who doesn't? Throw a new twist on an ...